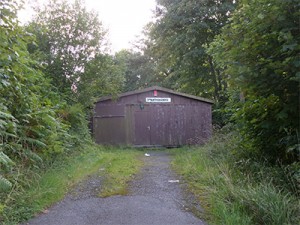 5th North Devon Scout Group, based in Bishop's Tawton, needs to raise £30,000 to build its new HQ on the groups existing site at the base of Codden Hill. The existing HQ is in such a poor state of repair that it is unlikely to last another year, leaving the group in urgent need of new facilities.
Newport Community School has donated two pre-fabricated temporary classrooms, which they no longer require. These have been dismantled and are being stored until the funds are in place to replace the existing HQ during the summer months.
The Scout Group is asking local businesses to help them undertake this project by donating funding and materials. They are also looking for help from local tradesmen who are willing to spare a few hours to help with the dismantling of the existing building and the construction of the new HQ.
Norman Rider, The Groups Chairman for the 5th North Devon Scout Group, said: "Currently around 50 boys and girls belong to the 5th North Devon Scout Group, which comprises Beaver, Cubs and Scouts and a further 22 members made up of young leaders, leaders and executive members who help run the programmes for the group and the management of the funds, building and equipment. The group gives these young people the chance to experience adventure, embrace challenges and ultimately improve key skills such as teamwork, leadership and confidence".
The Scout Group hopes that the local community will invest in the future of the group and the young people of the village and local area by offering their time to support building the new Scout HQ. The current scout HQ has been on the site since the 1970s and has seen excess of 1,000 children and young adults pass through its doors. The scout HQ is currently used by 51 Beavers, Cubs and Scouts meeting during the week, from Bishops Tawton and surrounding area.
Glen Morey Group Scout Leader, said: "The new hut will provide the children with more space, better storage and facilities: it is intended to serve the 5th North Devon Scout Group for another 30 plus years. We hope that local people will be able to help us: without this help the future of our group is uncertain."
If you would like to find out more and help the group either by donating your time, materials or funds, please contact Norman Rider for more information exec@northdevonscouts.org.uk